Richard Harper

"Theatre of the Woods"
Oil
2005
Early mentoring for Richard was by oil painter Otis O. Lumpkin. He received a B.S. in Fine Arts from East Texas State University where he also taught intaglio printmaking as a graduate assistant. In his senior year, he won the print division of the student show, and had an oil painting, "Until Then", in a major exhibit at the Dallas Museum of Fine Arts. This painting was purchased by collector, Robert Butler, while at the museum, and is part of the Butler private collection today. Richard's paintings and etchings are in private collections throughout the United States.
Please scroll down for more images and text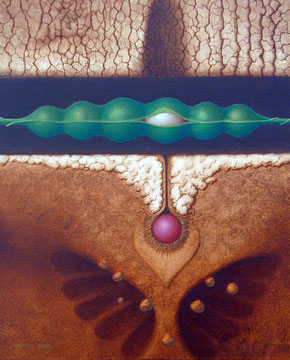 "Mythical Alignment"
Oil on Canvas
16 x 20 inches
$6400 unframed
"...the emotional depth of this piece...from the treasure buried in a dark subconscious to the promise of fruition in the here and now that shatters the broken dreams of what is to come. The bits falling into the abyss below crown the mystery of life itself..."
Rev. John Michael, O.C.D.

"An Evening Chamber Arrangement"
Oil on Canvas
10 x 20 inches
$4400 framed
The Vietnam Era draft, personal demons, civil rights issues, and family responsibilities took Richard in other directions for a long period, but he could never "shake" the spirit of art, and in 1999 he recommitted to his work as an artist. He now pursues his creative works full-time and seeks to be a channel through which spiritual forces can reveal the ever abundant mystery, wonder, beauty, and power of the conscious and unconscious worlds. His hope is that viewers of his paintings will be attracted by the strength of composition and remain long enough to explore the environment he has created discovering things that are made secondarily visible through the artist's brush, and also opening up to see what only that viewer might see. Aesthetic arrest and peace are the ultimate goals for his work. The greatest compliment he has received is when viewers have indicated they could sit in front of a painting for long periods feeling peaceful, yet having a sense of exploration and wonder at the same time.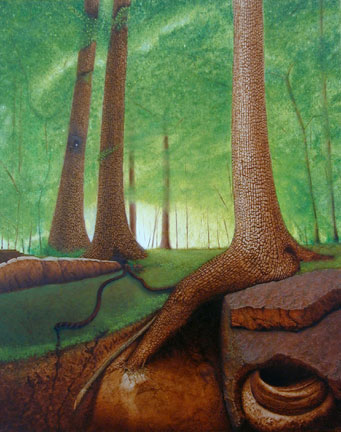 "Sacred Ground"
24 x 30 inches
Oil on Canvas
$8400 unframed
His art is influenced by the work of Otis Lumpkin, Andrew Wyeth, George Inness, Salvador Dali, Martin Johnson Heade, and Georgia O'Keeffe; the writings and teachings of Joseph Campbell, Black Elk, and many others; the music of Van Morrison; and all his dreams and life experiences up to this point in time.

"Praying to My Higher Self"
Oil on Linen
18 x 24 inches
$7600 unframed
 In addition to developing his own body of work, Richard has done several commissioned paintings with buyer suggested themes.
Recent paintings may be seen at his Newburgh studio by appointment.
Most paintings are available as limited edition giclee prints.
Richard Harper
110 Dubois Street
Newburgh, NY 12550

845-561-7547
richard.h6981@gmail.com
Copyright 2002-7 Richard Harper All Rights Reserved